Oh Eleven has been featured in several publications for editorial photoshoots & styled shoots. Please see the links below to see some of my latest work and to learn more about my process and business.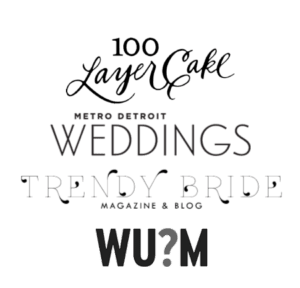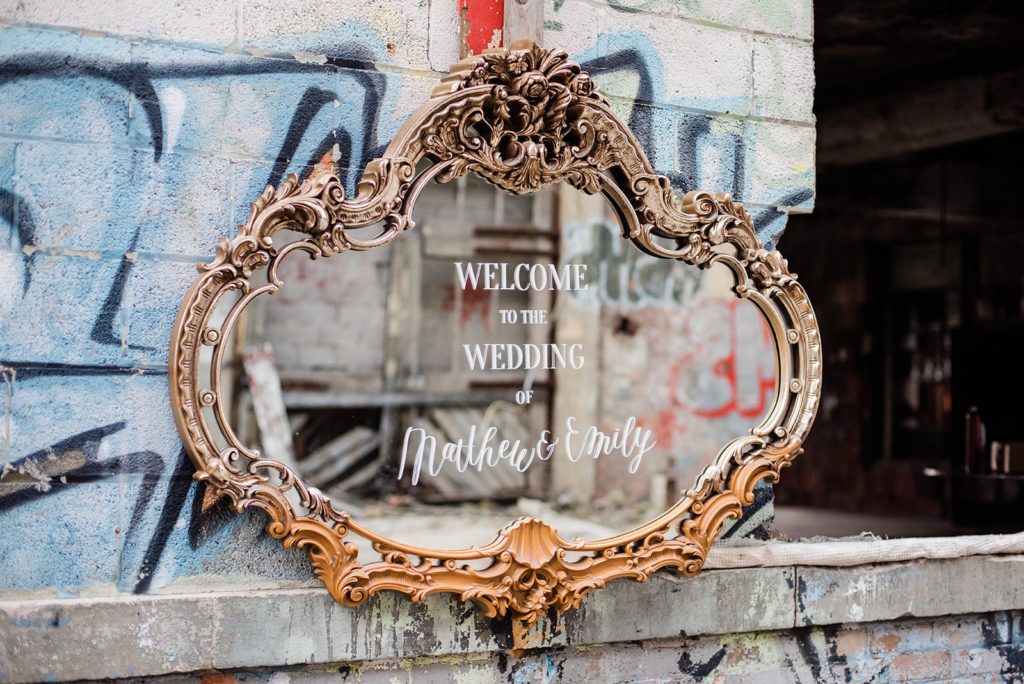 The invitation suites are the first indication of what a wedding might be like, says calligrapher Patricia Heffner, so she always foreshadows the look and feel of an event with her custom designs. Working on the Packard Plant project was not unlike doing research for her real couples — the only difference was that in this case, her research was about the history of the plant.
"The idea is to encourage conversation about the unique space where an event is being held," she says. "I love tying in the history of the space — it's always such a fascinating story that's fun to uncover."
All of the signage for the shoot was inspired by the Packard Plant. The bar they created was called the Kahn Bar, named for Julius Kahn (architect Albert Kahn's brother). He created a concrete steel bar, called the Kahn Trussed Bar, to reinforce the building. It revolutionized industrial construction by creating open, light-filled workspaces. The tenth building in the plant was the first to use the Kahn Trussed Bar, and so Heffner named one of the drinks at the shoot Packard, No.10. (Eventually all auto factories were designed using the Kahn Trussed Bar.) Heffner used acrylic sheets with a hand-painted black background to symbolize an oil slick or tire track, and paired it with gold lettering and edges that, Heffner says, "were delicate, soft, crumbling, and imperfect, but still stunning in its presence and beauty, just like the plant."
Heffner's enthusiasm for each project shows in her work — she never repeats the same signage or invitation twice, even though this is a side business.
"I'm a software engineer by day, so I do this whenever I have the time to be creative — before and after work, and on the weekends," she says. "I started doing it for my own wedding, and then just for friends, but my business has really grown since then. I definitely see it becoming a fulltime job. It really brings me joy."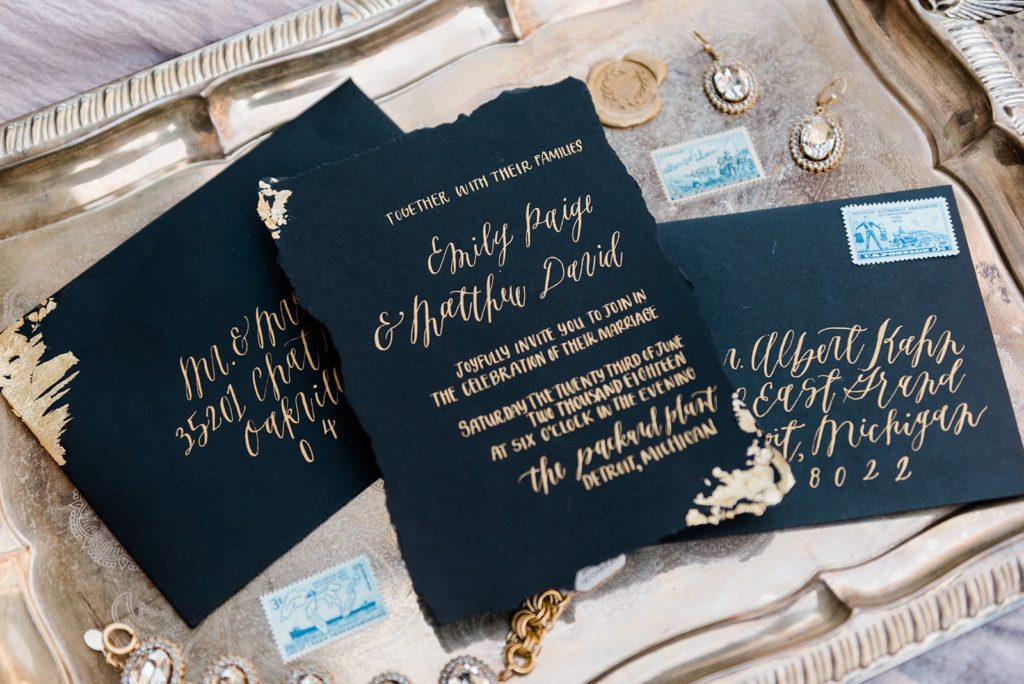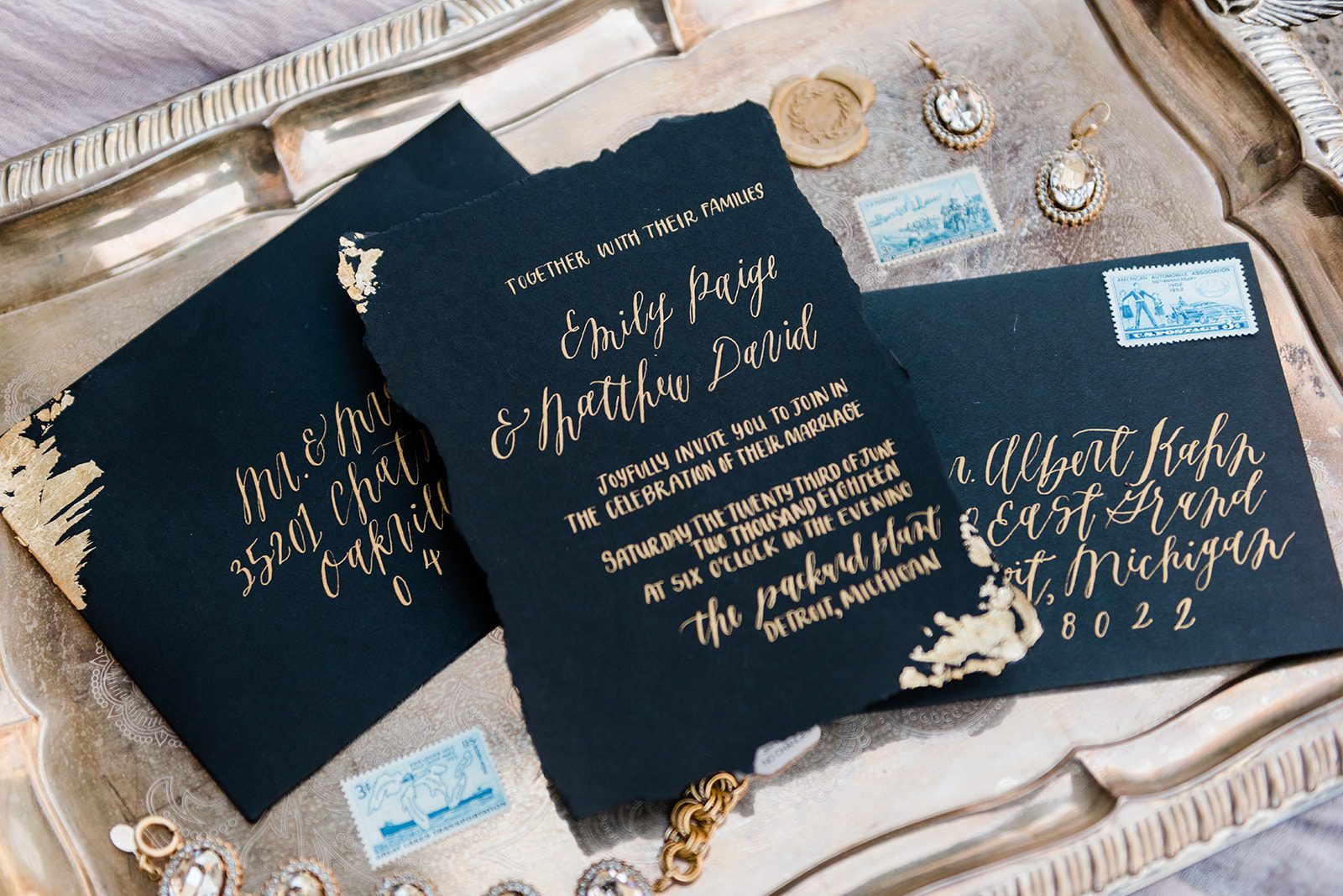 Oh Eleven was inspired by Detroit's rich history, the Packard Plant in all its decaying glory, and finally, its impending revival, when it came to designing the stationery. This contrast between remembrance and revival comes through in the invites, menu, and signage throughout.

-100 Layer Cake